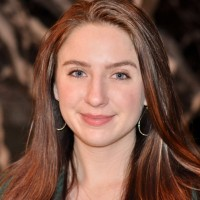 Ava Bouwkamp serves as our Investment Relations Manager. She oversees investor communications, capital raising procedures, and manages the implementation of new opportunities and operations.

Ava grew up in a small, rural community in Northwest Iowa. She was involved in a variety of activities including golf, cross country, and danced for 15 years at a local studio. An avid lover of music, Ava continued to play violin and piano in a variety of avenues.

After high school, Ava packed her bags and moved to New York City where she lived and worked while attending college in downtown Manhattan. Ava spent many afternoons and evenings exploring her favorite NYC spot, the Metropolitan Museum of Art. Graduating summa cum laude with a degree in the History and Philosophy, she relocated to Des Moines. In Des Moines, Ava met her husband Benjamin and the two were married in 2022. Benjamin and Ava love to golf, hike, and generally enjoy all things outdoors!