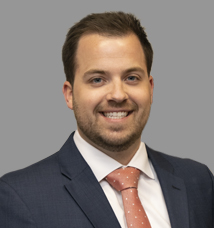 Jordan is an Urbandale, IA native and has lived in the Des Moines metro for his entire professional career. Jordan found his way into commercial real estate by stumbling upon Rho Epsilon (a commercial real estate extracurricular club) at The University of Northern Iowa. This club allowed Jordan to connect with several companies throughout the Midwest that had an emphasis on commercial real estate in their businesses. Being exposed to all different types of real estate driven companies allowed Jordan to find his passion in investment sales. By no means was it the free beer/pizza the club provided every Thursday night that drove him to maintain his active role.
Since graduating from the University of Northern Iowa back in 2014 with a triple major in Finance Management, Real Estate, and Business Administration Management, he found his passion as a commercial real estate broker. Jordan wasted no time as a commercial broker. In 2015, he was awarded the Iowa Realty Rookie of the Year award for his drive and production in his first year. He has actively worked with large corporate clients, investors, landlords, tenants, sellers, and buyers to assist on a wide array of commercial real estate transactions. Jordan's investment sales and leasing experience are benchmarked north of $150M with an emphasis on commercial investments and tenant representation throughout the Midwest. His competitiveness growing up in sports and with three older brothers has led to his competitiveness in finding real estate opportunities.
If Jordan is not working, you can typically find him grabbing a beer and eating some delicious food with his wife, Haleigh. Jordan and Haleigh are proud parents to their sweet 6-month-old son, Crew. Jordan has a large extended family so being together on the weekends with good food and drinks are always a must. His brothers and brother-in-law take turns on who gets to smoke the meat for the weekend. If not hanging with his family, you can most likely find him on the golf course, playing softball with his buddies, or finding a body of water to boat on or relax by.