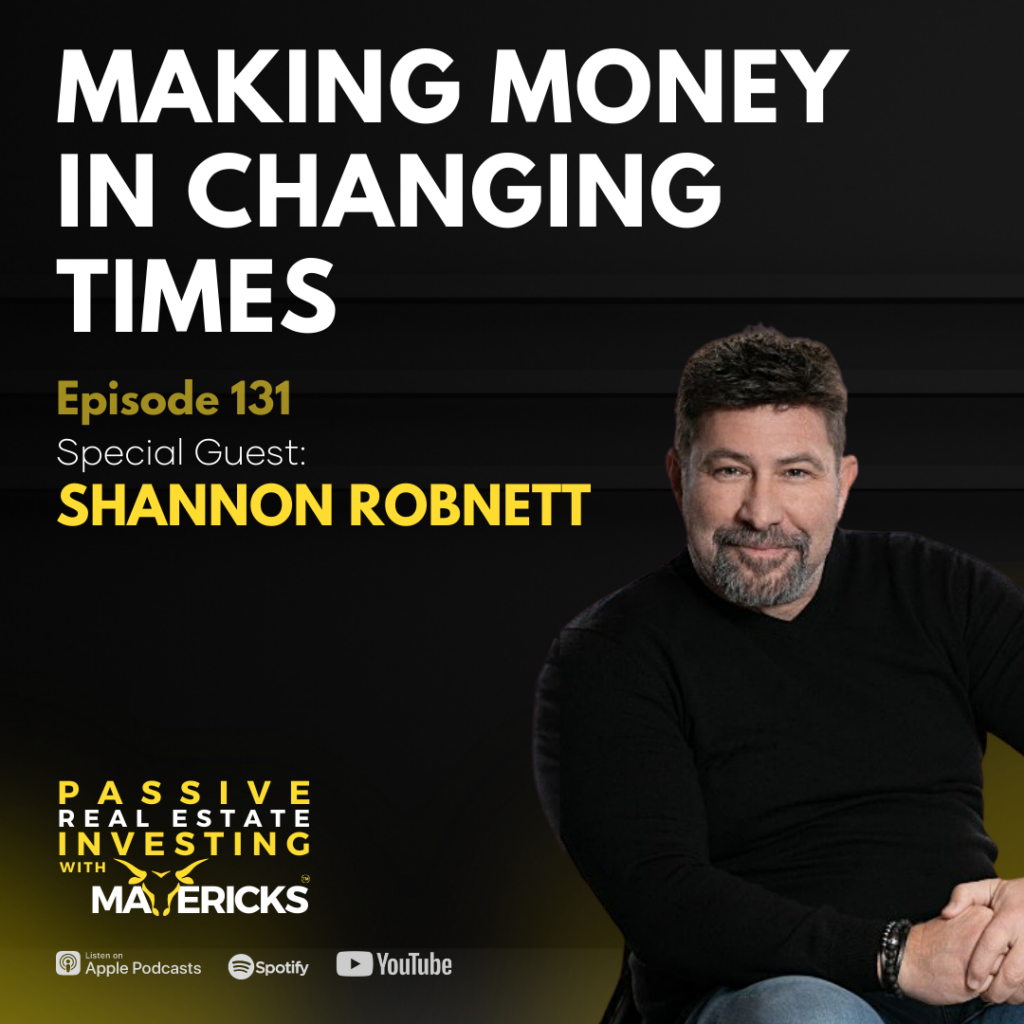 To access a FREE collection of resources, go to www.TheMaverickVault.com
With today's guest, reframe your perspective on recession and all the negativities surrounding the current market condition into a season of boundless opportunities. This first episode of Passive Real Estate Investing with Mavericks features Shannon Robnett, who shares insights about sourcing industrial deals, collaborating with REALTORS®, and the key concepts for generating wealth during a financial crisis. Hop in to learn more!
Key Takeaways From This Episode
Ways to source industrial real estate deals in opportunity zones 
Why practical experience is essential in real estate investing 
The importance of managing your expectations on real estate deals 
Similarities and differences between industrial and multifamily properties 
How to identify good real estate deal operators
The impact of the recession on the value of property investments
About Shannon Robnett
With over 25 years of experience, Shannon has been involved from start to finish on over $350MM in construction projects such as multi-family, professional office buildings to city halls, fire and police stations, schools, industrial projects, and mini storage. Along with his knowledgeable team at Shannon Robnett Industries (SRI), Shannon is dedicated to sharing his expertise and delivering top-quality projects that bring numerous passive income streams to his syndicate partners.
Connect with Shannon 
Are you a passive real estate investor seeking financial freedom? Almost daily, new headlines break on the latest financial market upset. Now is the time to get educated on how to strategically invest in commercial real estate for long-term financial freedom. Grab your copy of "How to Passively Invest in a Changing Economic Environment" Go to…www.MavericksInvest.com 
Want to keep up to date on the commercial real estate market, trends, investing tips and know what Neil is buying right now? Connect with him at Legacy Impact Investors and be sure to register for his newsletter. 
Connect with Neil Timmins on LinkedIn. If there is a topic you want to know more about or a guest that you would like to see on the show, shoot Neil a message on LinkedIn. 
Are you an Active Investor looking to do more commercial and residential deals? Maverick Lead Machine