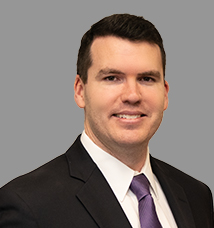 Mark's entry into commercial real estate was not a normal one. After attending law school and practicing law for four years, he found himself looking for a different career path. He knew he didn't want a boss and he wanted to pick his own clients. His brother, Neil Timmins, gave him the book Confessions of a Real Estate Entrepreneur by James A. Randel, and Mark knew his next career. Mark transitioned into commercial real estate brokerage in 2016.
Since 2016, Mark has been involved in over $120,000,000.00 in commercial real estate transactions. His commercial asset classes include retail, industrial, office, apartments, land, mobile home parks, gas stations, and self-storage units. He works with clients on acquisitions, dispositions, leasing, investment strategy and receivership. Mark has never sold a house in his career and plans to keep it that way.
Mark and his wife Laura are still enjoying life without kids. During the limited warm weather months in Iowa, you will likely find him playing golf, biking, or barbequing in his back yard. Having attended the University of Iowa for undergrad, he is a big Iowa Hawkeyes football fan and believes that Brian Ferentz should find a new job.