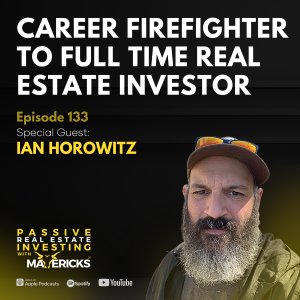 To access a FREE collection of resources, go to www.TheMaverickVault.com
Transform your real estate aspirations into reality with Ian Horowitz as he shares firsthand tips on passive investing and valuable insights on achieving your investment goals. So don't miss this episode to learn ways to mitigate risk, overcome doubts, and ignite your passion for success in the real estate industry!
Key Takeaways From This Episode
Advantages of investing in tangible assets
Why you should identify your strengths and execute your investment plans strategically
Key factors to consider when choosing real estate marketplaces and co-investors
Importance of regular communication and transparency with your investors
Risk-mitigation strategies to protect your cash flow
References/Links Mentioned
About Ian Horowitz
Ian Horowitz is a respected figure in the world of real estate investing, having transitioned from a career as a dedicated firefighter to co-founding Equity Warehouse with his business partner,
Daniel Mathe. The duo now manages an impressive $70 million portfolio, which includes a diverse range of real estate assets such as single-family homes, multi-family buildings, commercial properties, and self-storage units.
Ian is a family man, married to his wife, Christine, and father to two daughters. In addition to his accomplishments in the business world, Ian is also a licensed private pilot and enjoys spending time on the water with his family.
Connect with Ian 
Are you a passive real estate investor seeking financial freedom? Almost daily, new headlines break on the latest financial market upset. Now is the time to get educated on how to strategically invest in commercial real estate for long-term financial freedom. Grab your copy of "How to Passively Invest in a Changing Economic Environment" Go to…www.MavericksInvest.com 
Want to keep up to date on the commercial real estate market, trends, investing tips and know what Neil is buying right now? Connect with him at Legacy Impact Investors and be sure to register for his newsletter. 
Connect with Neil Timmins on LinkedIn. If there is a topic you want to know more about or a guest that you would like to see on the show, shoot Neil a message on LinkedIn. 
Are you an Active Investor looking to do more commercial and residential deals? Maverick Lead Machine