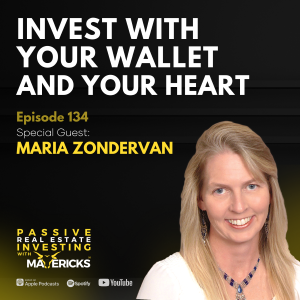 To access a FREE collection of resources, go to www.TheMaverickVault.com
We're thrilled to have Maria Zondervan in today's episode to share her legacy and passion for helping people with unique needs through real estate. Explore the benefits of constructing autism-friendly housing in assisting families to plan for a more secure future. Start investing with impact by tuning in today!
Key Takeaways From This Episode
Why you need to hire good property managers
Criteria you should consider before investing with sponsors
Compelling reasons to invest in multifamily properties 
How real estate investing helps in building a nest egg for people with special needs
What passive investors need to know to overcome fear and start investing 
References/Links Mentioned
About Maria Zondervan
Maria was born in Sweden but immigrated to the United States with her immediate family when she was nine. Since then, she has lived in various parts of Florida and lives in Orlando with her husband and two sons. 
She has been buying, selling, renovating, flipping, and renting real estate for over 25 years. She purchased her first home on a Lease Option with nothing down while she was still a student studying Wildlife Ecology and Conservation at the University of Florida. After graduating, she pursued her career goal and became a Wildlife Biologist working for the State of Florida, involved with restoring critical habitats and protecting endangered species. While working, she continued buying real estate. She took a year off to get her master's degree in Environmental Management and Policy. After 26 years, she retired from her biology career. 
Connect with Maria 
Are you a passive real estate investor seeking financial freedom? Almost daily, new headlines break on the latest financial market upset. Now is the time to get educated on how to strategically invest in commercial real estate for long-term financial freedom. Grab your copy of "How to Passively Invest in a Changing Economic Environment" Go to…www.MavericksInvest.com 
Want to keep up to date on the commercial real estate market, trends, investing tips and know what Neil is buying right now? Connect with him at Legacy Impact Investors and be sure to register for his newsletter. 
Connect with Neil Timmins on LinkedIn. If there is a topic you want to know more about or a guest that you would like to see on the show, shoot Neil a message on LinkedIn. 
Are you an Active Investor looking to do more commercial and residential deals? Maverick Lead Machine