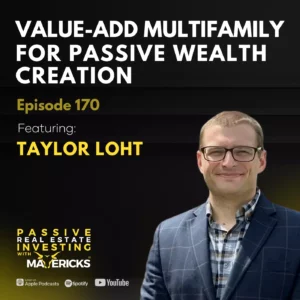 To access a FREE collection of resources, go to www.TheMaverickVault.com
Explore innovative ways to leverage strategic upgrades and renovations to maximize the value of multifamily properties with our guest, Taylor Loht. Dive into this episode for practical tips on harnessing the potential of your real estate investments for long-term financial success. Take a step towards passive wealth by tuning in!
Key Takeaways From This Episode
The value of choosing a real estate niche 
How to vet a good deal operator and evaluate potential investments 
Reasons why apartments and self-storage make good investments 
Outlook on the commercial real estate market 
Psychological barriers impacting passive investors' success
References/Links Mentioned
Empower yourself with insights that could save you thousands and earn even more by visiting https://www.passiverealestatecourse.com/ and enrolling in Taylor Loht's seven-day video course about the "Red Flags in Passive Real Estate Investing." Secure your spot now for FREE!
About Taylor Loht
Taylor is the founder of NT Capital and host of the Passive Wealth Strategies podcast. He teaches busy professionals how to invest in real estate without dealing with tenants, toilets, and termites. He lives in Richmond, Virginia, where he started and runs the monthly Richmond Multifamily Investors Meetup, trains Brazilian Jiu-Jitsu, and actively contributes to BiggerPockets.
Connect with Taylor 
Are you a passive real estate investor seeking financial freedom? Almost daily, new headlines break on the latest financial market upset. Now is the time to get educated on how to strategically invest in commercial real estate for long-term financial freedom. Grab your copy of "How to Passively Invest in a Changing Economic Environment" Go to…www.MavericksInvest.com 
Want to keep up to date on the commercial real estate market, trends, investing tips and know what Neil is buying right now? Connect with him at Legacy Impact Investors, and be sure to register for his newsletter. 
Connect with Neil Timmins on LinkedIn. If there is a topic you want to know more about or a guest that you would like to see on the show, shoot Neil a message on LinkedIn.