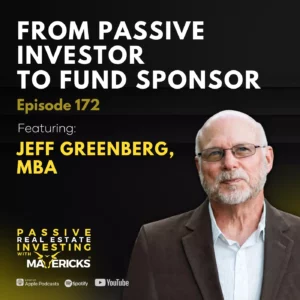 To access a FREE collection of resources, go to www.TheMaverickVault.com
Choosing suitable real estate operators and deals is critical to building a lucrative portfolio. So, in today's episode, we have Jeff Greenberg, MBA, to share practical tips for evaluating operators' track records, analyzing potential deals, and ensuring alignment with your investment goals.
Key Takeaways From This Episode
Important things you should consider in today's real estate landscape
A comprehensive understanding of real estate operations and fund management
Useful tips in selecting and evaluating real estate operators and deals
Exciting prospects and upcoming opportunities in real estate
Common challenges most investors face and solutions to overcome them 
References/Links Mentioned
Are you an aspiring investor looking to make informed decisions in the world of passive investing? Get FREE access to Jeff Greenberg's ebook "46 Questions Passive Investors Should be Asking Deal Sponsors" by visiting https://sigcre.com/sponsor and learn how to evaluate deals before you invest.
About Jeff Greenberg, MBA
Jeff is the founder of the Synergetic Investment Group and has over 17 years of investing in alternative investments and managing every aspect of those deals. He educates and brings higher reward opportunities to hard-working families, all without increasing the risk by doing the deepest due diligence to protect your investment.
Connect with Jeff 
Are you a passive real estate investor seeking financial freedom? Almost daily, new headlines break on the latest financial market upset. Now is the time to get educated on how to strategically invest in commercial real estate for long-term financial freedom. Grab your copy of "How to Passively Invest in a Changing Economic Environment" Go to…www.MavericksInvest.com 
Want to keep up to date on the commercial real estate market, trends, investing tips and know what Neil is buying right now? Connect with him at Legacy Impact Investors, and be sure to register for his newsletter. 
Connect with Neil Timmins on LinkedIn. If there is a topic you want to know more about or a guest that you would like to see on the show, shoot Neil a message on LinkedIn.