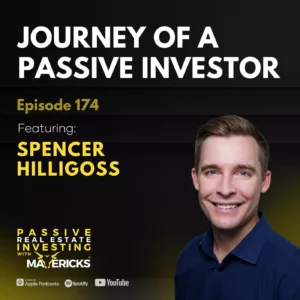 To access a FREE collection of resources, go to www.TheMaverickVault.com
Whether you're an experienced investor or just beginning to dip your toes into the world of finance, this episode is filled with insights that will assist you in comprehending and navigating the path of a passive investor. Join us, with our guest Spencer Hilligoss, to explore this topic in-depth and uncover the avenues towards achieving success as a passive investor.
Key Takeaways From This Episode
A transformative journey of a real estate investor 
The importance of active investing and partnerships in real estate 
Tips on choosing the right partners and deals for successful investments
How effective communication can enhance investor relationship
Why you should navigate opportunities and market volatility with a grounded mindset

References/Links Mentioned
About Spencer Hilligoss 
Spencer Hilligoss is the CEO and co-founder of Madison Investing. He is an active syndicator, investor, and speaker. Spencer currently leads business development and investor relations for Madison Investing. He is a former technology executive with a 13-year track record building high-performing teams across five companies (three of them software "unicorns"- valued at overvalued at over $1B). His last run in Silicon Valley was developing the origination team for LendingHome and leading their Professional Development group. Spencer is a 2023 Forbes Business Council member and a Registered Representative of Finalis Securities LLC, Member FINRA/SIPC.
Connect with Spencer 
Are you a passive real estate investor seeking financial freedom? Almost daily, new headlines break on the latest financial market upset. Now is the time to get educated on how to strategically invest in commercial real estate for long-term financial freedom. Grab your copy of "How to Passively Invest in a Changing Economic Environment" Go to…www.MavericksInvest.com 
Want to keep up to date on the commercial real estate market, trends, investing tips and know what Neil is buying right now? Connect with him at Legacy Impact Investors, and be sure to register for his newsletter. 
Connect with Neil Timmins on LinkedIn. If there is a topic you want to know more about or a guest that you would like to see on the show, shoot Neil a message on LinkedIn.